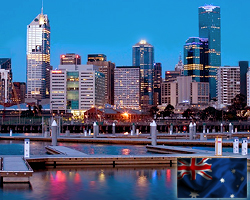 Australia will on Thursday release January trade numbers, highlighting a modest day for Asia-Pacific economic activity.
The trade balance is expected to show a surplus of A$4.80 billion, down from A$5.223 billion in December. Imports were worth A$36.07 billion and exports were at A$41.29 billion.
South Korea will provide January data for current account; in December, the current account balance showed a surplus of $4.33 billion.
Thailand will see February figures for consumer and producer prices. In January, overall inflation was up 0.16 percent on month and 1.1 percent on year, while core CPI was flat on month and up 0.5 percent on year. Producer prices climbed 0.9 percent on month and 0.8 percent on year.
Singapore will release December numbers for retail sales; in the previous month, sales were down 1.0 percent on month and 3.4 percent on year.